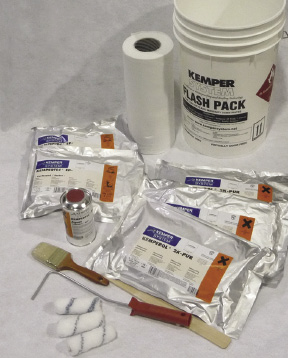 The new KEMPEROL Flash Pack from Kemper System America is a versatile high performance, seamless and self-terminating waterproofing kit for protecting or repairing small areas.
It is an easy-to-use solution for waterproofing and repairing leaks in roofing and flashings, where most roof leaks occur. The Flash Pack may be used to form watertight flashings at joints, parapets, walls, pipes and other penetrations.
The KEMPEROL Flash Pack includes detailed instructions, rollers, gloves and all the tools and materials necessary to cover, re-flash or repair up to about 25 square feet. It features the "odor-free" KEMPEROL 2K-PUR cold liquid-applied reinforced membrane system. The liquid resins come in their own easy mixing bags to reduce mixing time.
The KEMPEROL 2K-PUR membrane system is comprised of a two-part polyurethane resin and the KEMPEROL 165 reinforcing fleece. The fully reinforced resin system provides full closure to flashings and roof penetrations of every imaginable shape, eliminating the need for pitch pockets.
The KEMPEROL Flash Pack is available with a choice of either the KEMPEROL R or KEMPERTEC EP Primer. KEMPEROL R primer is primarily intended for metal, wood, glass, rigid PVC and existing bituminous substrate surfaces. KEMPERTEC EP primer is primarily intended for concrete and masonry substrate surfaces.
For emergency roof repairs, Kemper System America also offers the KEMPEROL Roofpatch. The easy-to-use membrane patch measures approx. 10"x16" (27 x 41 cm) and comes in a pouch kit.
Kemper System is a leader in odor-free liquid-membrane systems and provides long-term, built-to-last solutions for: plazas, green roofs, new roofs assemblies, existing roof recovery, metal roofs, balconies and terraces, historic restoration, gutterways, interior and industrial applications and below-grade waterproofing.
Kemper System America employs a nationwide network of committed sales representatives and a staff of professional technical support consultants that provide expert counseling, evaluation and long-term, built-to-last solutions. Applications of Kemper System products are supported by an experienced technical department, site quality control department and customer care support center, as well as trained technical field sales representatives throughout the U.S. and Canada.
The KEMPEROL Flash Pack and Roofpatch Kit are available through select roofing and waterproofing dealers.