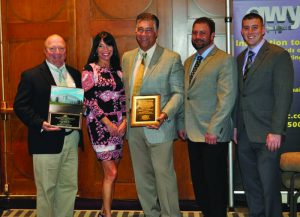 Shown (from left) are: Tim Allison, VP of project management; Lynne Barnes, controller; Marty Barnes, president; Tony Barnes, GM - steel fabrication division and Anthony Poliatti, project manager.
Weymouth, MA Since founding BARNES Buildings & management group, inc. in 1996 Marty Barnes has served as their president and the driving force behind their continued success.
Barnes graduated from Wentworth Institute of Technology in 1973 with a degree in architectural engineering and went to work as a structural detailer for a local metal building manufacturer. There he learned the details and aspects of designing metal building systems and in 1982 he decided to open his own company which would specialize in design-build projects utilizing pre-engineered metal building systems. Due to the poor economy in 1990 he closed the company and was recruited by Metallic Building Co. of Houston as their first district sales manager for New England.
Six years later he decided it was time to head back out on his own.
During his tenure with Metallic Building, Barnes developed a customer base and soon sensed a common thread of frustration among contractors where after buying a quality building system, they were displeased with the finished product as the materials were often being installed improperly. He saw there was a true disconnect and a real need for someone capable of pulling all the disciplines together to make a successful project, including assisting in the design process, properly ordering the building system and managing the supplier through fabrication and delivery, and then making sure the building system would be installed in the manner it was designed, ordered and manufactured.
"In our business, steel erectors generally lack the design or engineering background and engineers and fabricators usually don't have the field experience. I wanted to tie those two components together, I knew there was a void that needed to be filled," Barnes said.  "There was no one that I was aware of that had the capacity to deliver and bring together both the supply and erection functions, no one was approaching it that way. I felt I could definitely save a lot of work and headaches for the general contractors who were buying these two disciplines separately!"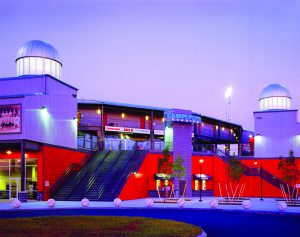 Campanelli Stadium - Brockton, MA
So, in 1996 he established the company and bought out a small steel erector to control the erection process. BARNES Buildings now employ over 40 people. Most of the management team, such as Tim Allison, vice president of project management, Jim Lobisser who is their field supervisor and many of the top field personnel have been with the company for over 15 years. "They are the key to our success," Barnes said, "Having good, loyal employees has made us who we are, they are vital to our success as they take pride in their work every day and strive to provide exceptional quality and service to our customers."
The company offers a number of steel design, supply and install services including engineered steel buildings, architectural metal roofs and foam insulated metal wall systems. BARNES crews can also retrofit existing buildings with metal roofing and architectural siding components.
In 2006 they opened their own local steel fabrication facility in Hanover, Mass. where they currently fabricate structural steel and miscellaneous iron which provides yet another valuable offering for its customers. "My son Tony has done an excellent job opening the fabrication market for us.  We are now able to fabricate structural stick framing up to about 150 ton projects, mezzanine steel, stairs, rails and complete misc iron packages to provide our customers integrated, inclusive steel packages," said Barnes.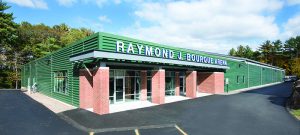 Raymond Bourque Arena at Endicott College - Beverly, MA
Projects over the past 20 years have run the gamut and include industrial facilities such as foundries and power stations,  commercial buildings for distribution, warehouses and office or retail space and recreational projects such as music pavilions, gymnasiums, hockey arenas and even two minor league baseball stadiums.
BARNES holds itself to high standards in providing steel construction. Their commitment to excellence has not gone unnoticed these past twenty years and they have been the recipient of numerous accolades. The company was awarded the prestigious Presidents Club Award by Metallic Building Company naming them their number one customer in 2001 and was again named The Builder of The Year by Metallic in 2015. Metallic has over 650 authorized builders nationwide. In addition the company has been recognized twice by the MBCEA as its National Building of The Year recipient, once in 2003 for the Brockton Rox Minor League baseball stadium in Brockton, Mass. and again in 2005 for the Fishercats Minor League stadium in Manchester, N.H. They have also won the Eagle Award for Excellence in Construction from the Associated Builders and Contractors along with numerous other design-build awards.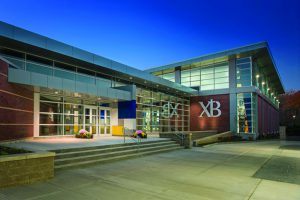 Xaverian Brothers High School - Westwood, MA
In 2014 Barnes himself was inducted into the MBCEA "Pioneer Club" and was recognized by the association for his dedication to the metal building contractors and erectors industry for the past 25 years.
The BARNES team prides itself and is extremely thankful for their relationships with their many repeat customers who choose them time and again. It is because of their loyal customer base that they have been listed by Metal Construction News as the one of the Top 100 Metal Builders and Number One in the Northeast for the past three years now.
"We are at our best when our client whether it is the general contractor, developer, architect or engineer brings us in at the beginning of the design process and allows our input. This is where the money is saved! We are able to work with the team to offer value suggestions structurally and aesthetically to help meet the budget and make the project a reality!" said Barnes.

The U at Starland - Hanover, MA
The company is looking forward to opening their new corporate office, the build out project is almost complete and they expect to take occupancy in late June. With that will come some exciting new changes for the company as they reevaluate and expand their management team looking to improve efficiencies and effectiveness for servicing their client base.
"We at BARNES Buildings are grateful to our many loyal customers and proud of our time-honored team for making this milestone anniversary possible.  We look forward to a bright and prosperous future and continued success for all," said Barnes.