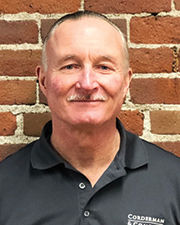 Boston, MA Peter Carr, a senior construction professional with a career spanning four decades of commercial real estate experience, has joined Corderman & Company as project superintendent. He will be working on a cross-section of projects in the construction management services firm's portfolio as part of its continued growth.
Carr joins Corderman after spending over five years at Dimeo Construction Co. in the role of superintendent. In that position he completed assignments for: Harvard University, CVS, MetLife, the Massachusetts Department of Youth Services, and Lowell Trial Court.
Prior to Dimeo, Carr served for 34 years as a vice president/superintendent with JLL on a wide range of office, life science, residential, institutional and hotel buildings and spaces.
"Peter is an accomplished and respected industry professional," said Barrie Ferraro, Corderman & Co. Principal. "He is a great addition to the team and will add significant value to our service platform. We are delighted to welcome Peter to the Corderman & Company family."
Carr earned a bachelor's degree in Construction Management from Wentworth Institute of Technology.