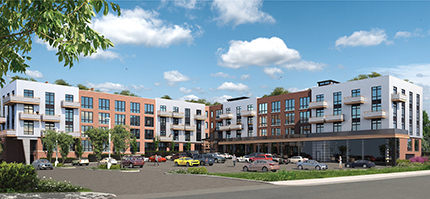 JLofts Greenwich - Greenwich, CT
Greenwich, CT JLofts Greenwich is taking contemporary living to new heights with 60 uniquely designed loft-like rental apartments.
Developed by Fareri Associates, Fairfield County's premier developer of high-end residential real estate, JLofts Greenwich is designed in a modern style with textured exteriors of brick and corrugated metal. JLofts Greenwich features studios and 1, 2 and 3-bedroom rental apartments, as well as six penthouses with private rooftop decks.     
Residents can take advantage of the expansive living spaces offered by JLofts Greenwich. A main elevator leads residents to a landscaped rooftop deck with comfortably appointed outdoor seating, outdoor kitchen, dining areas and putting green.
JLofts Greenwich other amenities include a modern club room with fireplace, pool table, oversized sectional sofa and flat-screen TV. A dining room with catering kitchen can be reserved for private dinner parties. There is even a self-service "doggie spa" just off the lobby where residents can clean and groom their dogs.
"There is nothing in the Greenwich area quite like what we are offering at JLofts Greenwich. It is really a bit of urban-style living set in a beautiful, walkable community," said John Fareri, president of Fareri Associates.