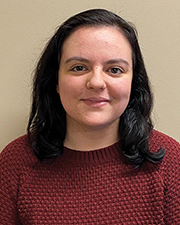 New Bedford, MA Poyant, a sign manufacturer and branding specialist serving local, regional, and national organizations, has named Tayla Arruda, associate project manager. In her role, Arruda supports the account executive for Dunkin' Brands by managing the life cycle of the project from start to finish. She communicates internally with staff and externally with customers to ensure Poyant delivers an outstanding product on time and within budget.
Before joining Poyant, Arruda held the position of patient care coordinator and marketing assistant at Perfect Smiles Dentistry in Seekonk, Mass. Prior to that, she was a sales associate and social media coordinator at Lees Wine and Spirits in Westport, Mass. Arruda attributes her success in her new role to her six plus years working in customer support related roles.
Arruda holds a bachelor of science in Marketing from the University of Massachusetts in Dartmouth, Mass., and a master of Business Administration from Johnson and Wales University in Providence, R.I.
Outside of work, Arruda enjoys writing, practicing yoga, and visiting her favorite local café on the weekends. She currently resides in Taunton, Mass.