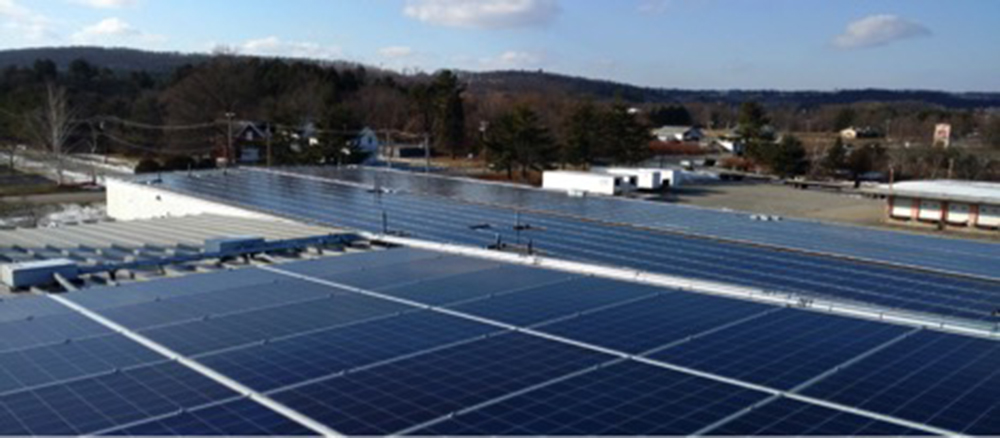 Westborough, MA In May, SolarFlair Energy, Inc. turned on its fourth project totaling 3.2MW within one calendar year in the town. By putting over 260,000 s/f of under-utilized roof space to work, the four installations will produce more than 3,750,000 kWh of clean energy every year. That's enough power to run 500 homes. The systems are connected to the utility grid and will convert the natural energy of the sun to clean reliable electricity for the next 25 years or more. The solar energy and energy credits generated from these projects will benefit eight Massachusetts businesses providing them with a clean source of energy and discounted electricity compared to the use of traditional fossil fuel energy. This is an innovative way for commercial businesses to lower their operating costs, help reduce our dependency on fossil fuel, and educate the community about the current and future opportunities for clean energy technology.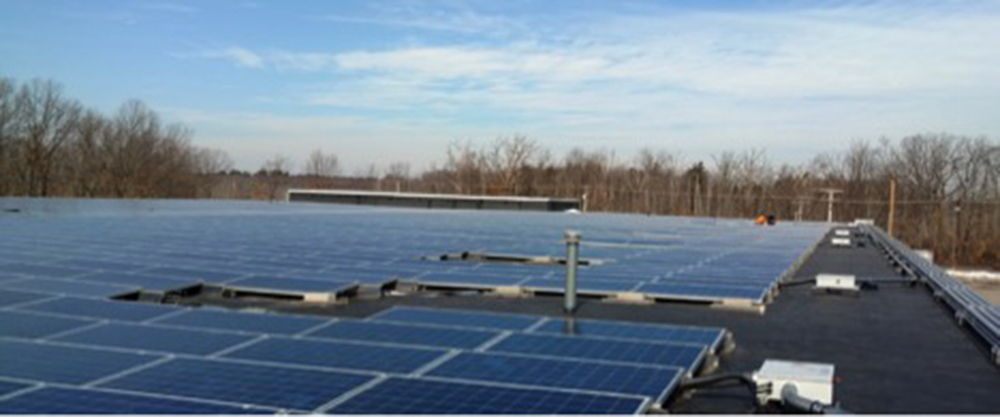 All four projects were designed and installed by the employees of SolarFlair Energy, Inc. In completing these projects SolarFlair installed 10,291 solar panels manufactured by Canadian Solar and 10 Solectria inverters across six commercial buildings throughout Westborough. The various roof surfaces encountered on the projects included flat EPDM rubber, pitched standing seam metal and corrugated metal. Several structurally challenging areas required innovative racking and reinforcement solutions designed by the SolarFlair Team in order to maximize the system sizes. Close coordination with National Grid engineers and construction crews was essential to get these projects energized in a timely manner. These projects are monitored using Locus Energy equipment and software packages which allow valuable insight into the operation of the systems for maintenance and troubleshooting purposes.
Two of the installations, totaling 2MW, will be owned and operated by SolarFlair Energy. The projects are located at 53 Otis St. and 57 Brigham St. The buildings are filled with commercial tenants including a high tech manufacturer, a food storage company, and a dog training facility. The company entered into long term roof lease agreements with the owners of each building. These projects will benefit from the ARRA Federal Stimulus 1603 Treasury Grant and the Massachusetts Solar Renewable Energy Certificate (SREC) program. The 1603 Grant will cover approximately 28% of the project cost. In addition, for each KWh produced by the PV system Solarflair will earn a Solar Renewable Energy Certificate (SREC) which can be sold to electric utilities needing to meet state renewable energy mandates. Over the next 10 years the SREC market projects to add between 20 cents and 30 cents to the value of each KWh of electricity produced by solar, dramatically reducing payback periods and improving the return on investment for solar system owners. Recipients of the discounted electricity credits include local restaurants and commercial real estate companies.
The smallest project was a 94KW system on the Westboro Tennis and Swim Club located at 35 Chauncy St. The club is committed to promoting health and wellness through recreation, fitness, and education which is exemplified by their distinctive facility. The owner of the facility felt a solar installation was a terrific way to show members that the club is committed to the community through responsible environmental practices. The club also benefits financially from reduced energy costs as well as tax incentives that are available from the State and Federal governments.
The most recent project to be completed was for the benefit of E.L. Harvey & Sons, a waste hauling and recycling business. The 1.1MW system is installed on an 80,000 s/f residential single stream sorting facility built in 2013. This is E.L. Harvey's newest, highly-automated state-of-the-art processing center which handles up to 600 tons of single stream recycling per day.
The facility uses the latest in screening and optical sorting technology to recover 95% of available recyclables. For E.L. Harvey & Sons "Going Solar" made sense for a variety of reasons. From their employees to the management team, everyone at E.L. Harvey is dedicated to sustainability and sound environmental practices. Not only does going solar help achieve that goal, but the significant savings on their energy costs makes good business sense as well.