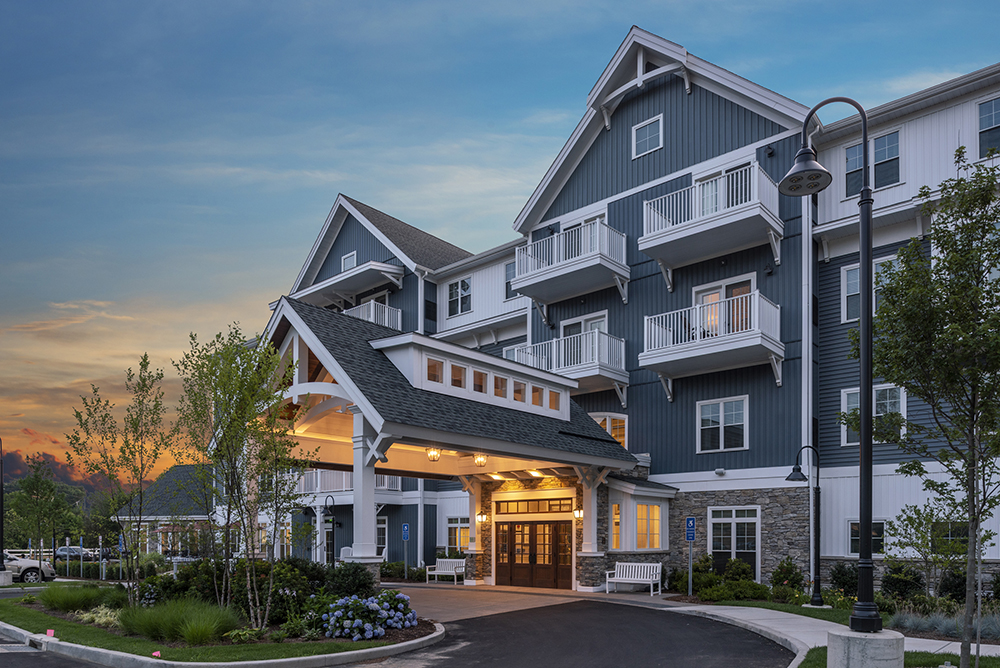 Shelton, CT The new Brightview Senior Living community is now open. At 168,000 s/f, the four-story building is located at 30 Beard Sawmill Rd. off Rte. 8 between New Haven and Bridgeport. Brightview, based in Baltimore, MD, collaborated with longtime partner, PROCON of Manchester N.H. as the architect and construction manager of their newest community.
The community offers 161 apartments in a variety of styles and care options. Housing options include 87 independent living, 48 assisted living, and 26 Wellspring Village Apartment Homes. Wellspring Village is a specialized Brightview neighborhood designed to enhance the lives of those living with Alzheimer's disease and other forms of dementia.
The design features a farmhouse style vernacular with bays, a gabled roof, balconies, porches, and an attractive porte-cochere entrance which all complement its countryside surroundings. The design was intended to encourage residents to connect with the outdoors by importing plenty of natural light with cathedral ceilings and oversized windows.
The property features numerous community amenities such as a fitness center, a pub, theater, beauty/barber shop, café, library/media room, and elegant dining rooms. Residents will also be able to enjoy the outdoor fire pit, walking trails and scattered exterior seating. The community's curriculum also includes group activities, clubs, games, and hobbies as part of a lifestyle package that encourages socializing.
Finally, every need is attended to by a carefully-selected, and trained staff and enhanced by chef-prepared meals, housekeeping, dining, and transportation.
Brightview Senior Living has discovered the secret to vibrant post-retirement life by providing older adults with a premier environment and numerous options for remaining active and connected. Shelton is their ninth collaboration with PROCON, and the second in Connecticut, following the completion of Brightview New Canaan in Norwalk two years ago. Contact Brightview Senior living for more information about the Shelton community.